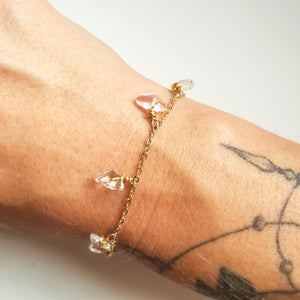 ✦  Clear Quartz ✦   
✦  The magic of this crystal ✦  
Master Healer + Clarity + Energy
Clear Quartz is the most powerful healing stone thought to be able to work on any condition and known as the stone of power and amplifies any energy or intention. This stone is said to protect against negativity, connecting you to your higher self. 
Clear Quartz has been seen, and felt, to strengthen the auric field and is good to use if you are spending time in negative environments.
Astrological Sign: all Signs
Chakra: all Chakras
Affirmation: "I am crystal clear about the feelings and thoughts i want to amplify." + "I am a radiant, being filled with all frequencies of light."
Even if you are not one of the Zodiac signs mentioned above,  
the gemstones we are attracted to are the most suitable  
stones for us at the particular point of time. 
 ✦✦✦  
All products are made with the purest heart and  
most positive intentions, so you get the highest  
vibrations possible. I love what i do and am so  
grateful for your support. Every gemstone is  
cleansed and charged with Reiki before you receive it.  
We hope that you can feel the magic as soon as  
you receive your order.   
We donate 1$ of each order to Operation  
Underground Railroad, an organisation teamed  
up with CIA - agents and military. Together they  
rescue children from sex trafficking. So from the bottom of our  
hearts, we thank you  
for supporting us, so we can support those innocent souls.  
We need to be their voice  
and work together to end child sex trafficking  
that effects millions  
of kids worldwide.    
✦   
Get in touch if you have any questions.   
 
Please make sure not to let water or oils get to the  
product, as this might cause tarnish.  
with love,    
Monie ✦