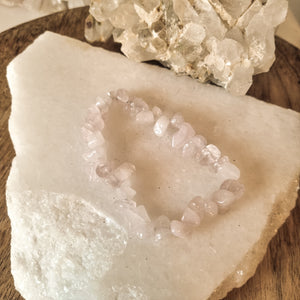 ✦ Rose Quartz ✦  
✦   The magic of this crystal ✦  
Love + Trust + Emotional Healing
Rose quartz is the quintessential stone of love, for others and your self. This stone is calming for the mind; assisting us to release worry, fear and past emotional trauma and allows us to be more open to receiving and sharing love, compassion and kindness. This crystal provides physical stability and strength to the heart.
Astrological Sign: Taurus + Libra + Scorpio


Chakra: Heart

Affirmation: "My heart is open to love in all forms."
Even if you are not one of the Zodiac signs mentioned above,  
the gemstones we are attracted to are the most suitable  
stones for us at the particular point of time. 

✦✦✦