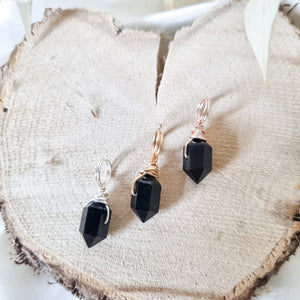 ✦ Back Onyx ✦
✦ The magic of this crystal ✦
Grounding I Negativity Shield I EMF Protection
The Black Onyx gemstone is worn to help a person shed negative emotions. The gemstone has a calming effect and aids the wearer in overcoming bad emotions, thoughts, and, perhaps, situations. Letting go of the past is a vital part of releasing negativity. Wearing this stone can assist people in letting go of former relationships and letting go of the past. This is perfect for people who can't seem to let go of former relationships, even if they ended years ago, and who prefer to live in the past rather than the present.
The healing properties of Onyx will assist you in overcoming feelings of grief, sorrow, or depression. It will provide you with emotional healing as well as sentiments of hope and optimism
Astrological Sign: Leo
Chakra: Root
Affirmation: "I am protected on all levels."
Even if you are not one of the Zodiac signs mentioned above,  
the gemstones we are attracted to are the most suitable  
stones for us at the particular point of time. 

✦✦✦