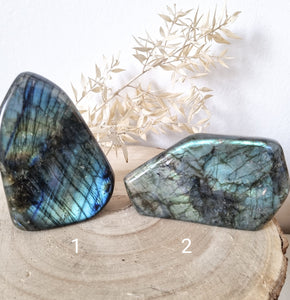 ✦  Labradorite ✦  
✦  The magic of this crystal ✦  

Opening + Shifting + Protecting
Labradorite activates the inner eye allowing one to more clearly envision the past, future, distant places and can assist one in moving into alternate levels of consciousness and vibration. Assisting with the manifestation of serendipity and synchronicity, Labradorite shows us the wonderful opportunities that arise when we are in harmony with all our aspects, both mundane and spiritual.
Astrological Sign: Sagittarius + Scorpio + Leo

Chakra: Third Eye

Affirmation: "I trust the magic in my life."
Even if you are not one of the Zodiac signs mentioned above,  
the gemstones we are attracted to are the most suitable  
stones for us at the particular point of time. 
 
 ✦✦✦  
We donate 1$ of each order to Operation  
Underground Railroad, an organisation teamed  
up with CIA - agents and military. Together they  
rescue children from sex trafficking. So from the bottom of our  
hearts, we thank you  
for supporting us, so we can support those innocent souls.  
We need to be their voice  
and work together to end child sex trafficking  
that effects millions  
of kids worldwide.    
✦   
Please get in touch if you have any questions.